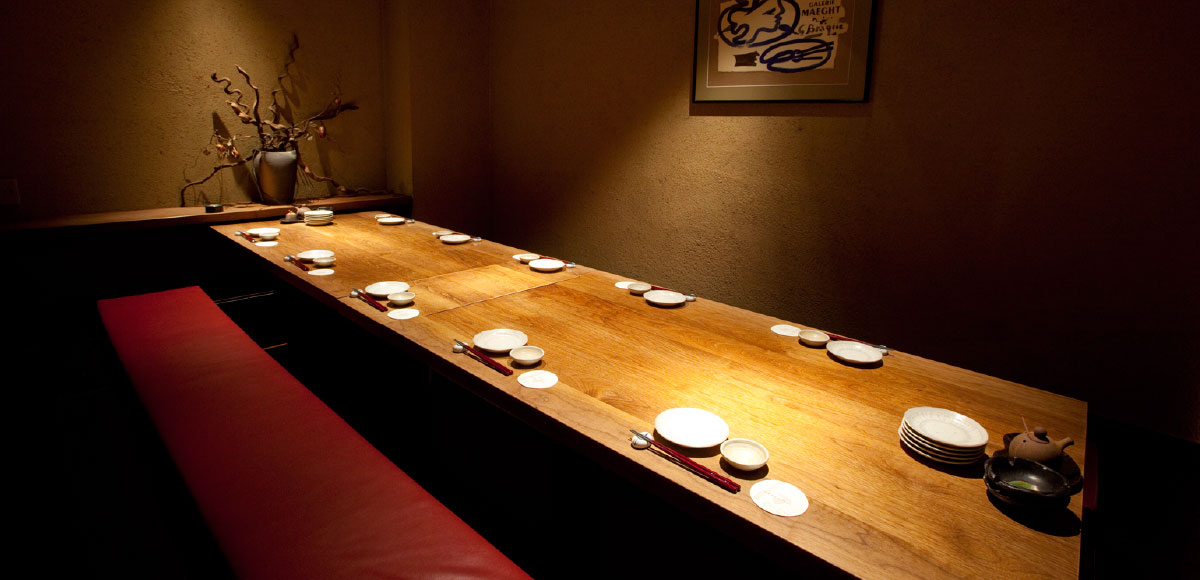 Seating of 109 including private rooms, irori sunken hearth seating, counter and table seating.
Enjoy the versatility assured to fit your mood or occasions.
Floor map
Seating
Irori sunken hearth seating

Tasteful Japanese traditional space "irori" sunken hearth seating. Surround the irori and feel the charm of our miniature garden, feel at home enjoying dinners, conversations and more. Irori seating is available for 2 or more guests. Hori-gotatsu (sunken table heater) seating of 4 is available for a party of 3 or more. We accommodate private parties of 30 or more guests (reservations required.)
Tatami room [Musashinokuni]

Our tatami room accommodates 2 parties of 3-4 guests. We take reservations for this room for 7-10 guests.
Private room (Large) [Isenokuni]

This room features hori-gotatsu seating which easily accommodates 8-12 guests with the maximum capacity of 14. We recommend you make a reservation in advance as this is a popular room for year-end and new year parties.
Private room (Medium) [Mikawanokuni]

This room comfortably accommodates 5-6 guests with the maximum capacity of 8. Great venue for business dinners, entertainment, celebrations and dinner parties with friends. Please make a reservation.
Private room (Small) [Ohminokuni]

This room normally accommodates 4-5 guests with the maximum capacity of 6, offering a perfect private space for business dinners, entertainment and dinner with someone special. Our private rooms are very popular, so please be sure to make a reservation.
Counter seating

Enjoy conversations with our staff at the counter seating while visiting by yourself. Popular among regulars, the counter seating accommodates up to 12 customers.
Table seating 1 [Sagaminokuni]

We have 4 tables which accommodates 3-4 guests each. You can reserve a semi-private room for 16 guests or more. (Reservations required.)
Table seating 2 [Suruganokuni]

This table seating accommodates 5-7 guests. We can turn this space into a private room with the use of a lattice door.
Table seating for 2 guests

These table seats offer a quiet and relaxing private space for 2. Perfect for dinners with someone special. Please be sure to make a reservation as these are popular seats.